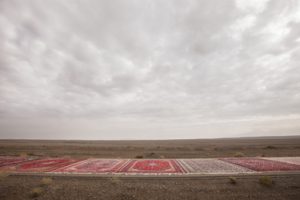 Opening: May 6th until 23th 2016 – From 4:00 to 8:00 pm
Silk Road Gallery is pleased to present Red Zone: New series of photographs by Jalal Sepehr. The exhibition runs from Friday May 6 until May 23 at Silk Road Gallery's Farmanieh branch.
The exhibition, which includes a collection of 8 frames of photographs (70 x 100 cm) focuses on the Middle East as a turbulent and very complex geographical zone. Without referring to any direct political notions or elements, in this series, Sepehr has used his signature elements such as rugs to cover vast areas of land as routes only to block them with natural obstacles such as large size stones in order refer the unsmooth transition this part of the world is going through.
'Red zones are where roads do not continue. A zone where time and place in it is deranged and norms are shattered. Alien forces are being imposed on it and a new-inflamed incident is expected at every second. The red zone is as vast as the Middle East.'
In his career Jalal Sepehr has always been engaged with using symbolic elements and the medium of photography to explore socio-cultural subjects. This is his second solo show with the gallery.
About Jalal Sepehr
Jalal Sepehr (born 1968) is a well-known Iranian photographer. He began his career in photography in the 90s as an industrial photographer. Later he started combining Persian historical and literary visual references in order to create his unique images. He is shown regularly in Iran and around the world.
Jalal Sepehr has exhibited in numerous cities and has won many prizes such as third place at Iranian Industrial Photography Festival in 2013, First and second place at Marine Photography Competition in 2004 and 2005, second place at PX3 Festival in France in 2009, Certificate of Honor at Peking Art Photography Festival in 2005, The Bulgarian Satire Festival in 2007 and 2009, first place at Postcard Photography Festival of Canada in 2007, second place at Shouka Kitchen Photography Festival in 2007 and first place at Employment Development Festival in 2010. As well as holding regular photography courses and workshops, his works have been published in numerous books and publications worldwide.
---
You might also like