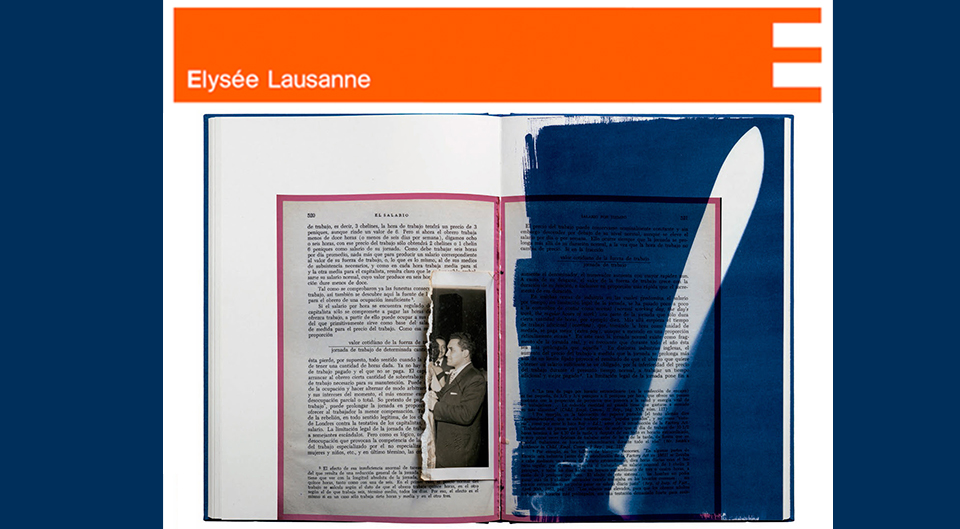 The winner of the third edition of the Prix Elysée
The Colombian photographer was selected by an international jury of experts for his project My Father's Garden. The starting point for Luis Carlos Tovar's work is a photograph, but, paradoxically, one that he has never seen. It is the "proof of life" of his father, taken hostage by the FARC (Revolutionary Armed Forces of Colombia) in Columbia. Tovar has other traces to fill his father's silences – the titles of the books he read in the jungle, the turquoise butterflies he kept between the books' pages, and the Amazon landscapes he tries to recreate in his garden. These enable him to imagine his father's pain, but never to fully understand it.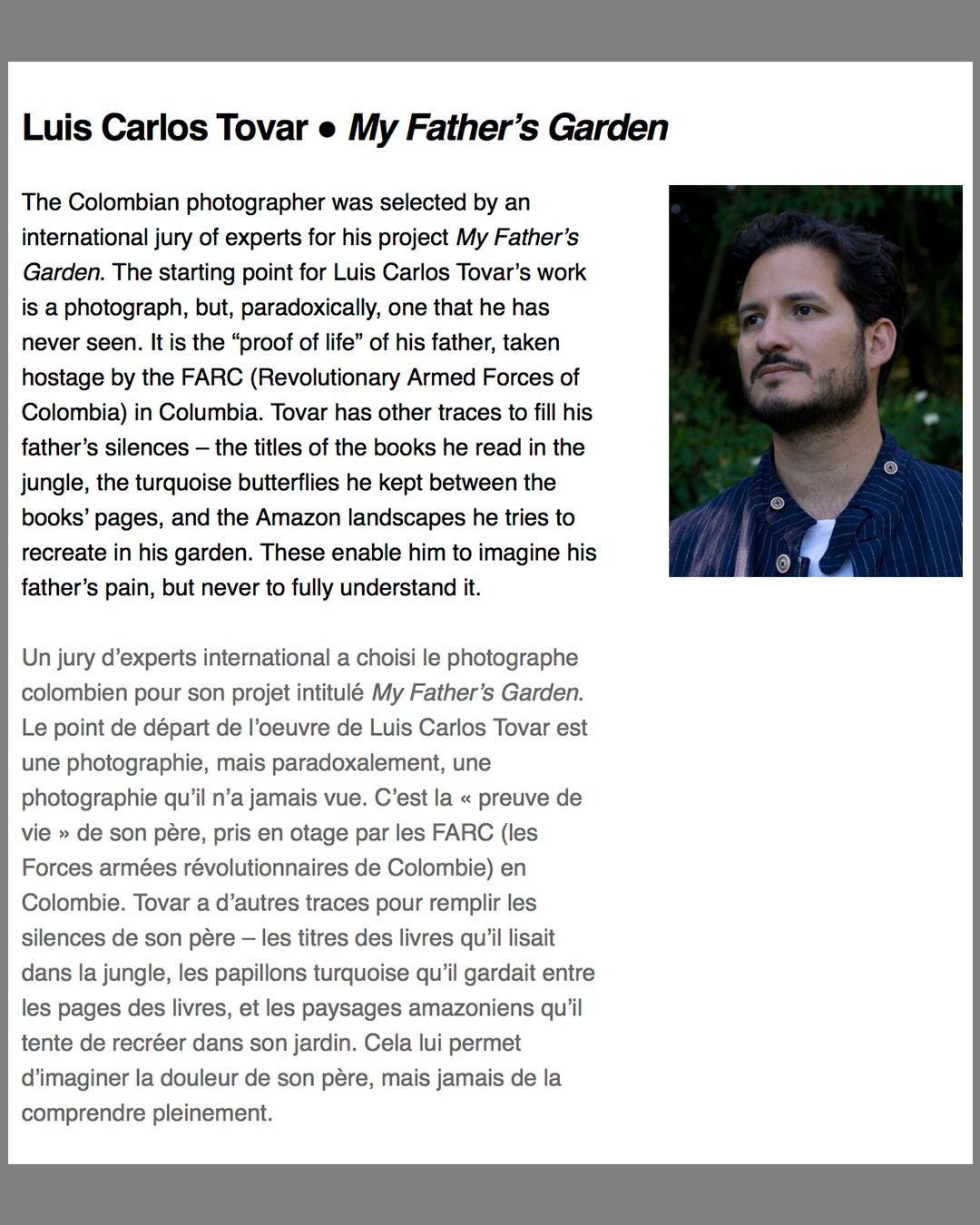 Luis Carlos Tovar (1979) is a visual artist and educator from Bogotá. He considers art as a vessel for reflection, a catalyst for building resilience, and an agent for inner and outer transformation.
Tovar explores mutable geographies (i.e. displacement), how otherness is created, and the role of memory in the present. He has worked with vulnerable populations in his country and with refugees in Europe. Committed to social justice, he has developed decentralized pedagogical spaces, where participants inhabit their individual and collective journeys. His work integrates different mediums such as photography, painting, mixed media and video installation.
He has exhibited in Buenos Aires, Bogotá, Rome, Paris, Madrid and Pingyao. He recently won the 2017 PhotoEspaña Discovery Prize (Madrid) and completed a residency at the Musée du quai Branly (2017-18) and at the Cité Internationale des Arts in Paris (2018-19).

Next steps

Luis Carlos Tovar receives CHF80,000. Half of this sum will go to the production of the project, and the other half to the publication of an accompanying book. He has to complete his work within one year. During this time, his progress will be followed by the Musée de l'Elysée. The publication of his book project is planned at the Musée de l'Elysée in Lausanne for 2020.

A prize supporting artistic production in the field of photography
The jury was composed of Anahita Ghabaian Etehadieh, Founder and Director of the Silk Road Gallery (Tehran), Curt Holtz, Editor of Prestel Publishing (Munich), Yasufumi Nakamori, Chief Curator of international art (photography) at the Tate Modern (London), agnès b, Fashion designer, Galery owner, Collector (Paris) and the founding partners, Tatyana Franck, Director of the Musée de l'Elysée and Michel Parmigiani, Founder of Parmigiani Fleurier (Fleurier). The jury also acknowledges the seven nominees, Laia Abril, Mathieu Asselin, Claude Baechtold, Alexandra Catiere, Alinka Echevarría, Gregory Halpern and Nicola Lo Calzo for their invaluable contributions, particularly within the framework of the Nominees' Book.
●
Launched in 2014, the Prix Elysée is a prize supporting artistic production in the field of photography. Result of a partnership between the Musée de l'Elysée and Parmigiani Fleurier, it offers financial help and curatorial guidance to artists with a passion for photography and books, so they can take a decisive step in their career.
---
You might also like