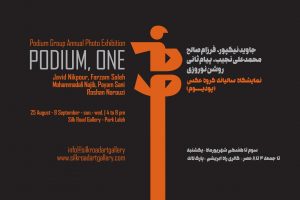 Podium,One/ Podium group annual photo exhibition / Opening: Friday, 25th August 2017, 4 – 8 pm / exhibition till 8th September 2017 / Javid Nikpour, Farzam Saleh, Mohammadali Najib, Payam Sani, Roshan Norouzi / closed on Saturdays and public holidays. / Address: 210, Keshavarz Blvd. / Tel: 88977148
"Podium, One", the first annual exhibition of Podium photo group will be held on 25th August at Silk Road Gallery – Park Laleh.
This exhibition features three photographic projects of three sports as well as seven photo series each containing three frames called "Hattrick".
"Podium, one", in collaboration with Iran Images Agency will also exhibit number of photos from Jaamjoo collection featuring wedding photos of world champion Gholamreza Takhti.
Podium is a photography group founded by five Iranian photojournalists, focusing on documentary photography of sports. Javid Nikpour, Farzam Saleh, Moahamadali Najib, Payam Sani and Roshan Norouzi are the photographers.
"Podium, One" exhibition will be open on 25th August and will be on view everyday except Saturdays until 8th September at Silk Road Art Gallery – Park Laleh.
---
You might also like