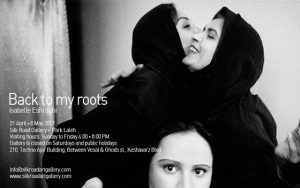 Back to My Roots, Solo Photography Exhibition / Opening: Friday,21 April 2017, 4 – 8 pm / exhibition till 8th May 2017 / closed on Saturdays and public holidays.

My Iranian identity revealed through my photography. I was born in Isfahan from an Iranian father and a French mother. This identity is always written in my Identification cards. I left Iran at my early age so I had barely memories, I couldn't feel that I am Iranian until the day I decided to discover this country which is also mine. In 1996, I had my mother's old passport from Shah Era where I appeared as a chubby baby on an identity photo on the fourth page which had written "Unknown". I went to the Islamic Republic of Iran embassy in Paris, hoping to obtain a visa. The counselor said: "you don't need a visa, you are Iranian.
My first Iranian passport with an ID photo as an adult had been filled with many enter and exit stamps "Tehran, Mehrabad airport", "Tehran, Imam Khomeini airport", "Isfahan, Shahid Beheshti airport". I stopped counting trips after the thirties almost with one goal "photography", each of the trips taught me to feel more and more Iranian. At the beginning of my trips, women of Isfahan were the center of my attention; I wanted to know what a woman I could have become if I had grown up in Iran. By observing their ordinary lives, I understood how it meant to be a wife, mother, housewife, worker and being a woman in Iran. These moments of my life that I share with my photos are the ones which were erased from my memory and during the years I reconstructed them again. Twenty years later, I can say that I found my Iranian identity also my Isfahani identity. I will never forget my French identity, it has always been there, and I don't need to look for it. My French identity constantly looks at my Iranian identity and vice- versa.
---
You might also like