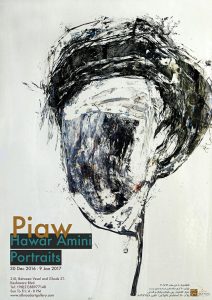 Piaw; Hawar Amini / Portraits Exhibition / Opening: Friday, 30 December 2016, 4 – 8 pm / Exhibition till 9 January 2017 / Closed on Saturdays and public holidays. / Address: 210, Techno Ajor Building, Between Vesal & Ghods st., Keshavarz Blvd. / Tel: 88977148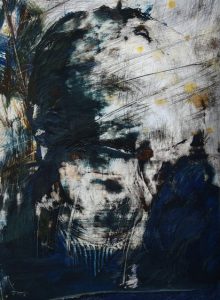 'Piaw' in this series, does not only mean being a 'man', it can also be referred to as a symbol of fight and struggle for coexistence with a historically unstable situation.  The formation of this series is the result of a few years of effort in recording portraits of the 'piaw' of Kurdistan; although it first began with photography, it ultimately ended in patterns and colours. The lines and pores on the faces of these portraits reflect the story of great hopes and of greater frustration. It seems that behind these nightmarish and wandering portraits lies not only the shadow of time but the wounds and cracks of the force of history are also evident.
Z. Ebrahimi
The 'Piaw' series is Hawar Amini's fifth solo exhibition with Silk Road Gallery. It consists of videos and paintings that are unique and a collection of complimentary works in various sizes.
Hawar Amini (born 1982, Marivan, Kurdistan) holds a BA in painting from Isfahan's University of Art and a MA in painting from Tehran's Tarbiat Modares University.
---
You might also like