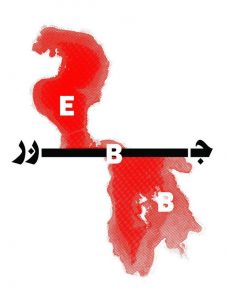 Ebb; Group Multimedia Exhibition / Opening: Friday, 13 January 2017, 4 – 8 pm / Exhibition till 23 January 2017 / Selected by: Romin Mohtasham, Zahra Ghyasi / Artists: Mehrdad Afsari – Hamid Behjat – Avin Farhadi – Ghasem Fathi – Samad Ghorbanzadeh – Alireza Ghoojari – Zahra Ghyasi – Azam Hosseinabadi – Reza Kianian – Tarlan Lotfizadeh – Pari Malekzade – Tahmineh Mirmotahari – Masoume Mohtadi – Romin Mohtasham – Ebrahim Noroozi – Christophe REZAÏ – Seyfolah Samadian – Mehdi Vosoughnia – Ehsan Ziaee / Closed on Saturdays and public holidays. / Address: 210, Techno Ajor Building, Between Vesal & Ghods st., Keshavarz Blvd. / Tel: 88977148
•
It is the sound of water asking for justice!
It is the sound of water that testifies!
It is the sound of water's echo that has intertwined with Iranian art.
Humans' childish pride wished to amend the current order of nature based on a level of knowledge!! Based on knowledge that contradicts itself each second reaching new enlightenments through the unmatched order of nature.
Shallow scientists forget that science is not holy and that it advances by questioning itself, unlike art that thrives by coming back to itself.  Art cherishes nature but science attacks it. Art and science both learn from nature and know that even if millions of works of art are created and if millions of scientific laws are discovered, nature is always more fertile.
Our lakes, rivers, wetlands and underground water resources are drying up partly because of the pride of these shallow scientists.
We are the voice of water and we ask the humble scholars who themselves are in tune with nature to join us in this desert being the voice of water!
Reza Kianian
Winter 2017
---
You might also like