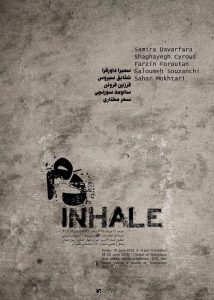 Opening: Jun 10-20th, 2016 – from 4:00 to 8:00 PM
Samira Davarfara, Saloumeh Souzanchi, Shaghayegh Cyrous, Farzin Foroutan & Sahar Mokhtari are the artists.
The original idea of this collection has been created by searching daily pictures. And accidentally selecting one of them as a source.
Hamireza Karami has written about this exhibition: "Farzin Foroutan, Samira Davarfara, Saloumeh Souzanchi, Sahar Mokhtari, and Shaghayegh Cyrous exhibit a contemporary image of a persistent fear. What seems to have been an accidental encounter with a trivial image in the dazzling flux of images in the virtual space, has turned to an artistic point of departure to embody a sensation resulting from a confrontation with this trace of human pain and suffering. An anonymous picture from the gas chambers of Auschwitz that at first look like an image of interwoven lines—reminiscing abstract
patterns—reveal the horrific truth of the last ditch efforts of men and women to survive by clawing at the sooty walls of Nazi death camps.
---
You might also like