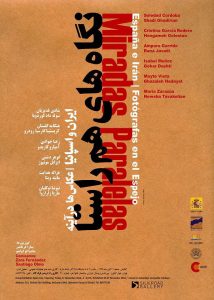 Opening: November 11th, 2016 at 4pm – from 4:00 to 8:00 PM. There will be a Question and Answers session at the gallery on Sunday, November 13th at 6pm
 The Western-Mediterranean Cultural Association in collaboration with the Spanish Agency for International Cooperation and Development, the Spanish Embassy in Tehran, The Allameh Tabatabai University and the Silk Road gallery are organizing an exhibition of photographs in Tehran by well-known Iranian and Spanish women photographers entitled, "Parallel looks: Photographers in the Mirror".
This same exhibition was held in Madrid in March earlier this year. This collection of photographs was put together by Zara Fernandez and Santiago Olmo in lieu of the surprisingly close relationship and similarities between the works of Iranian and Spanish artists.
Visitors to the exhibition will be inspired to look within themselves by the amazing and valuable collection of artwork brimming with stories and an energetic perspective and point of view by 12 photographers who share a passion for their art: Soledad Córdoba and Shadi Ghadirian; Cristina García Rodero and Hengameh Golestan; Amparo Garrido and Rana Javadi;  Isabel Muñoz and Gohar Dashti; Mayte Vieta and Ghazaleh Hedayat; María Zarazúa and Newsha Tavakolian.
---
You might also like