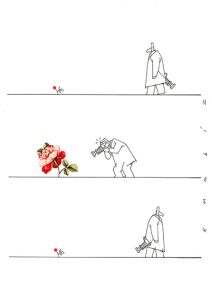 A Solo Photography & Caricature Exhibition by Kambiz Derambakhsh, 18 Sep. – 19 Oct., 2015 from 4:00 to 8:00 pm
Kambiz Derambakhsh (1940) is a renowned Iranian graphic artist and cartoonist. During his long career as an artist, he has held many solo exhibitions across the world and has been part of numerous exhibitions worldwide.
His latest solo exhibition at Tehran's Silk Road Gallery – Park Laleh entitled 'Please Smile' consists of not only cartoons but also a series of photographs by the artist. In this exhibition 30 frames of cartoons and 34 frames of photographs have been presented and the collection of photographs on display are being exhibited for the public for the first time in his long career. These photographs have a painting-like quality and the subjects and ideas he has always been engaged with have inspired this collection.
Derambakhsh is the winner of numerous awards and notable prizes from a varied range of countries including Japan, Germany, Italy, Belgium, Turkey, and Brazil. He has also received the prestigious 'Ordre National du Mérite' from France in 2014.
His works are part of some of the world's most important museums and collections including, Tehran's Museum of Contemporary Art, Basel's Cartoon Museum, Bulgaria's Museum House of Humor and Satire, Hiroshima Museum in Japan and many more.
---