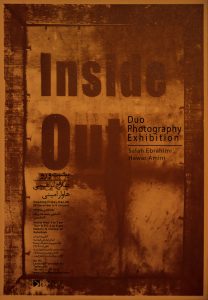 Duo Photography Exhibition by saleh Ebrahimi and Hawar Amini
Opening: December 26, 2014. 4to 8 PM
Our perception of the world starts from pre-birth; it is Formed and shaped through time by surrounding physical, emotional and psychological factors. Yet it is ultimately our own sense of judgment that is responsible for our choices which in return define our character. We decide how we want to appear and reflect on to the world, based on our vision and perception of it. So the depth of our world view lies beneath the true recognition of our world within. This means, emancipation from deeply rooted false beliefs, fears and projections, inherited mostly from the closest social kinship. Ultimately reaching one's insight and seeing the misconceptions, stereotyping and biased observations that are used mainly to hide our own inferiorities. Only then we open ourselves to new experiences rather than acquiring a convenient cell in the heritage home of pre-judgments.
 Hawar Amini's photographs are a combination of old negatives from 40s of Iran associated with images of the past and now. Salah Ebrahimi's photos are a series of portraits from behind, interspersed with frames worn in society today.
In this exhibition we find how a photograph can be challenged with an image and unconsciously will remain a deformed image.
---
You might also like