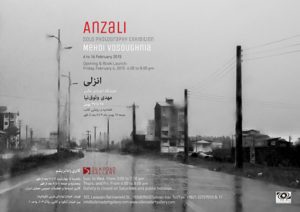 A Solo Photography Exhibition,6 -16 of February 2015 from 4:00 to 8:00 pm
Anzali
This is Anzali; a port city in the margins of the Caspian Sea. Somehow when I saw this city, I discovered myself in it; though I was not even born there. As I wandered around it constantly in different days and seasons, I found it a lonely city. I saw the city in rainy days, looked at the people closely and even watched it keenly in its reckless silence. Once I focused accurately on this geographic site, and as I encountered certain issues and faced the existing elements in the city, I came across a rather unconventional conversation; I encountered decay and dampness in addition to grayish and gloomy people. I then realized that the body of this city, including the architecture, buildings, benches, alleys, streets, shops, docks and the beaches speak for what is called Anzali, way beyond the words spoken by the people.
For me the metal bridge, the Qazian bridge, the Lagoon, the Boulevard, the Ghalam Goodeh Island, the Mianposhteh Island are graphic haikus in the seasons when there is no tourist around.
The "Anzali" collection is a sequel to the photos I have taken from the cities, places and other landscapes of my country, Iran, which I have had my eyes fixed on during the recent years. The collection of the photos presented in this book was photographed within two years (20012-2014) through my trips, while each trip took two to three days.
Mehdi Vosoughnia
---
You might also like