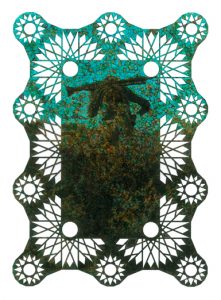 Opening: April 15th until 25th 2016 – From 4:00 to 8:00 pm
Does any image that represents something from the past has the value to be archived and kept?
And, should we not doubt the accuracy of an event by seeing a meddled image of it?
For example, a war photographer who has learned photography after the war has ended, or a journalist who has only got to an event years after it has finished?
Through a long on-going project, Mohsen Zare tries to question these issues about 'photography' and 'documentary photography'. His quest is to understand how historic documents are being realized over and over again and are transformed, despite these 'documents' being the only concrete concept in all this.
He collects images of war from anywhere he can find and contemplates about them for some time as familiar objects before using them. He tries to see them beyond colour, form and composition and then to manipulate them in his own way.
In his works, he strips images off of their documentary quality and avoids them to be remembered or used as war photographs.
This exhibition presents works from two series by the artist; 13 images from his The Rusted Battle series and 8 from A Chance for Camouflage series with works in dimensions of 28 x 40 cm and 26 x 35 cm.
Mohsen Zare was born in 1980 in Shiraz, Iran. He holds a degree in Graphic Arts from Soureh University. He has worked professionally in the graphics for over ten years. 'Documents of War' is the title of his fourth solo exhibition; he has held three solo exhibitions in the city of Shiraz with the last one being held at Narenj Gallery in 2015. During the past few years, he has participated in several group exhibitions in Tehran, Shiraz, Dubai, Germany and Australia. He has also been among the finalists of Magic of Persia's list of artists and his works are part of collections such as: Los Angeles County Museum of Art (LACMA), Livingstone Museum, Zambia and private collections in India, Switzerland and USA.
---
You might also like